5 Reasons Why Halloween is an Anti-Climax for Doctors and Nurses
26th Oct, 2016
Halloween is just around the corner and shop windows are already putting up their cobwebs, jack O' lanterns and witches' brooms. But for most Doctors and Nurses, Halloween just doesn't have that gross, shocking element that so many people thrive from on October 31st. So what is it about working in hospitals that eliminates the fear-factor?
The Costumes Aren't Ideal
Okay, dressing up is great and everything but would you really get excited about a day of the year when a large portion of the general public decides to wear a slightly warped version of your everyday work uniform?
They See Blood and Guts All Year Round
Halloween is all about feeling scared, and what's scarier than blood, right? The thing is, Doctors and Nurses witness it on a day to day basis, all year round. What is really scary to a healthcare professional is another 18hour shift!
Zombie-Mode is a Regular Thing
Zombies are not just for Halloween when you work in a hospital. The days are long, the nights are hard and coffee is a sacred drink. Get on the wrong side of a tired nurse and they might actually bite your head off (okay, not literally).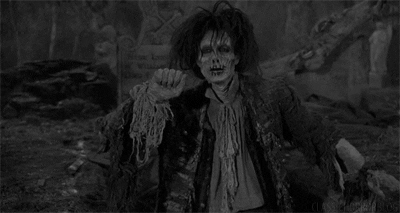 Skeletons are Seen in Radiography
Forget skeletons hiding in the closet, hanging from the ceiling or lying down in plastic coffins – if a doctor or nurse needs to see someone's insides, they simply pop down to the Radiography Department for some x-rays. Bones are just another day at work for some healthcare professionals!
They Don't Need a Costume to Get Treats
Doctors and Nurses do such a great job that patients often want to reward them by sending in thank-you treats! And there's no ultimatum involved, no tricks in sight – just a delicious, well-deserved box of chocolates!
View our current doctor jobs and nurse jobs or contact us on 020 7220 0811 to speak to one of our Consultants today!
Monthly Newsletter
Join Us
Send your CV straight to the right person
Latest News
Black History Month 2021: Healthcare Heroes
08 October 2021
Part one of our Black British History: Healthcare Heroes Profiles for 2021. Kofoworola Abeni Pratt, James McCune Smith, and John Alcindor all qualified as healthcare professionals at a time when it was revolutionary for them to do so - they all also played a major part in the fight for civil rights. The impact they had, not only in their time but for generations to come, needs more recognition.
by Katie McTaggart
Creating Hope Through Action For World Suicide Prevention Day
10 September 2021
The theme for this year's World Suicide Prevention Day is Creating Hope Through Action. Suicidal thoughts are often overwhelming, but talking about it can be the first step towards hope. Trigger Warning for discussions around suicidal feelings.
by Katie McTaggart
Can Nurses Work In The NHS And Do Agency Shifts?
05 August 2021
If you're an NHS Nurse thinking about joining an agency, this is what you need to know!
by Katie McTaggart
Step in to a dynamic and stimulating career with Your World Recruitment
29 July 2021
If you thrive off working in a fast-paced sales or customer service environment, this is the opportunity for you.
by James Stanyer